At the end of 2019–20, we had 3,039 colleagues around the world, with 1,765 people based outside of the UK. Their knowledge and skills are vital to our future. To continue to attract and retain people of the highest quality we provide a workplace environment that is open and sharing, committed to the equal treatment of all, and engaged with our local communities.
Over the past year we have put particular emphasis on four areas of progress: broadening our learning and career development efforts; working more closely with our colleagues at Cambridge Assessment; removing barriers to more collaborative working within the Press, while simplifying our processes; and investigating ways of introducing more flexible ways of working.
We had a large-scale pilot scheme in flexible working just under way when the UK lockdown began. The COVID-19 pandemic meant that, with no notice, the entire organisation was transformed in a couple of days from one operating out of 50 offices around the globe to one where everyone was working flexibly from home.
The rapidity of the change, and lack of fuss, was a tribute to the resilience, enthusiasm and hard work of colleagues. Particular thanks are due to the IT team, the business continuity planners, the Communications Team and the Operations Team who worked together to ensure that our transformation was as smooth and trouble-free as possible.
We are also grateful for the tireless efforts of colleagues across the Press over the weeks of lockdown to help customers as they came to terms with closed schools, universities and libraries and the need to work remotely and online.
Colleagues say that we have supported them well through the crisis. We needed people to work from home but recognised that, for some, the constraints of caring responsibilities and domestic circumstances made this hard, while isolation could be crippling. We devoted a whole section of the intranet to advice on well-being and mental health and developed a series of webinars to provide additional support. We were pleased that a survey into our handling of the crisis showed 91 per cent of staff were satisfied with our response.
One of the legacies of COVID-19 seems certain to be more flexible patterns of work around the world. We had been focusing on this before the pandemic struck because evidence suggested colleagues would welcome it and the Press would benefit from it.
Young people entering the workforce tend to expect greater flexibility. Our own research showed that inflexible hours were hampering our ability to close our gender pay gap, since colleagues returning from maternity leave find it harder to juggle career and family.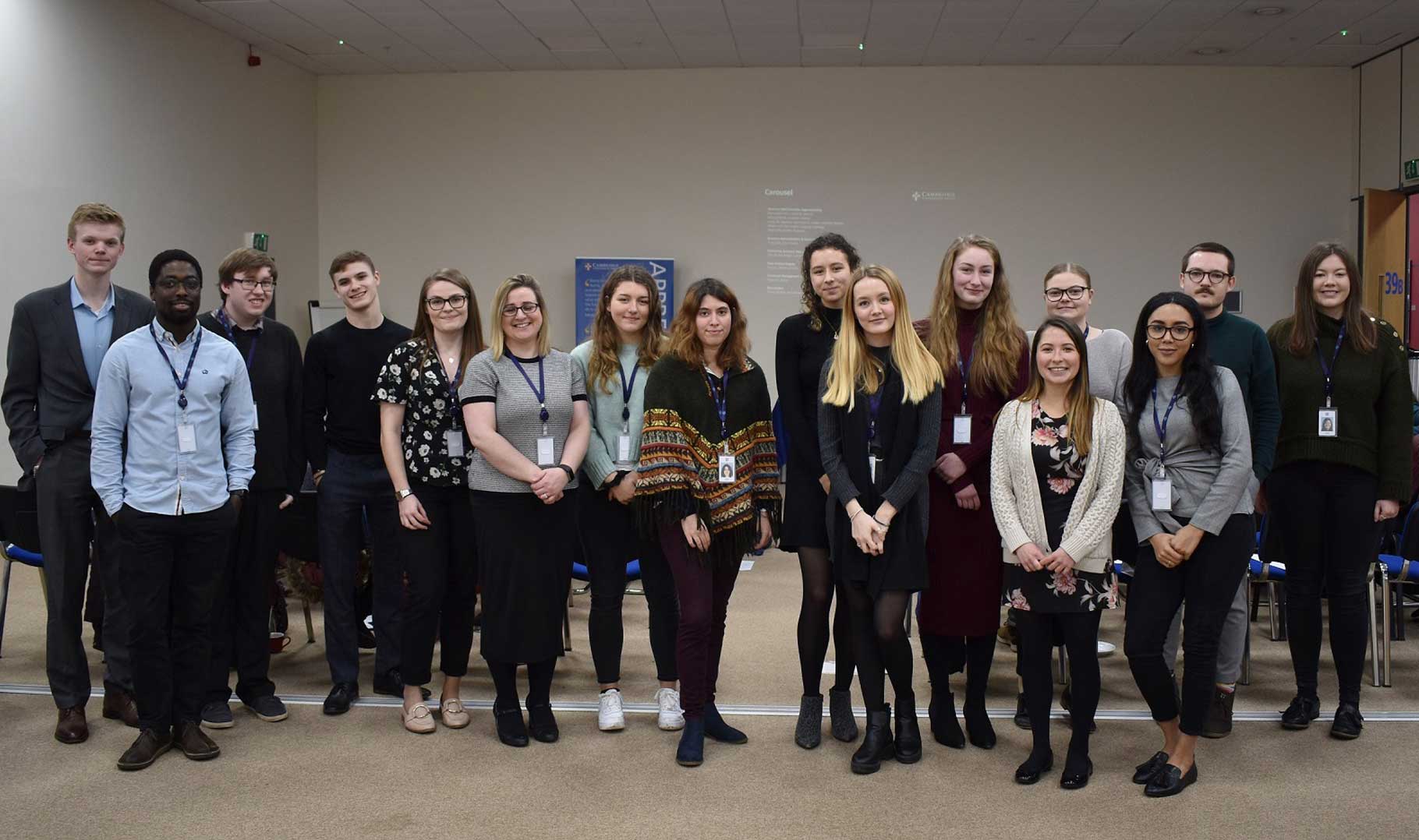 Apprentices from our Cambridge office spoke to local students to give them insights into how apprenticeships work
We are pleased that our median UK gender pay gap fell in 2019–20 from 18 per cent to 16 per cent. We are working hard to keep it narrowing. The problem stems in part from having more male colleagues than female at a senior level and more female in entry-level posts. However, that ratio has begun shifting.
An audit conducted during the year confirmed that male and female colleagues are paid the same for doing the same job across the Press in the UK.
In the area of skills development, we followed the completion of our successful Cambridge Leader management development programme with the launch of Navigate, a global programme for colleagues new to line management. This is largely delivered virtually and includes a face-to-face element in Cambridge.
Our programme also placed more emphasis on the needs of our younger colleagues. A third of our staff members are under 35. We conducted sessions that encouraged them to think about their skills in a world of very rapid change, where flexibility will be a key career asset.
We are delighted by the continued success of our apprenticeship programme, which is bringing valuable new perspectives to teams right across the organisation, in publishing as well as operations. By year-end, 86 colleagues had done apprenticeship learning of some kind. Of these, 23 were recruited into entry-level roles after the introduction of the Apprenticeship Levy in 2017. Five were recruited into entry-level roles before the levy. Two of these are now managing new apprentices themselves, and two are doing degree apprenticeships at the Press.
We continued with our training in mental health awareness and social awareness. The Academic publishing group ran a diversity and inclusion programme called Respect Me, which we plan to roll out in other parts of the organisation.
Charitable giving and community engagement are an important part of our culture. In 2019–20 charitable action by colleagues, together with donations from the Press, raised £56,375, while 397 volunteers gave 1,168 hours to support local communities around the world. 
In the UK, we began working with a new Charity of the Year, the Castle School, a community special needs school in Cambridge. In addition to a £10,000 donation by the Press, colleagues raised more than £2,150 through various activities, including a London to Cambridge bike ride. £1,602 of these funds were matched, making a total of £3,766 additional funds for the school. UK colleagues also raised more than £11,000 for 30 other charities, of which around £8,500 was added in matched funds.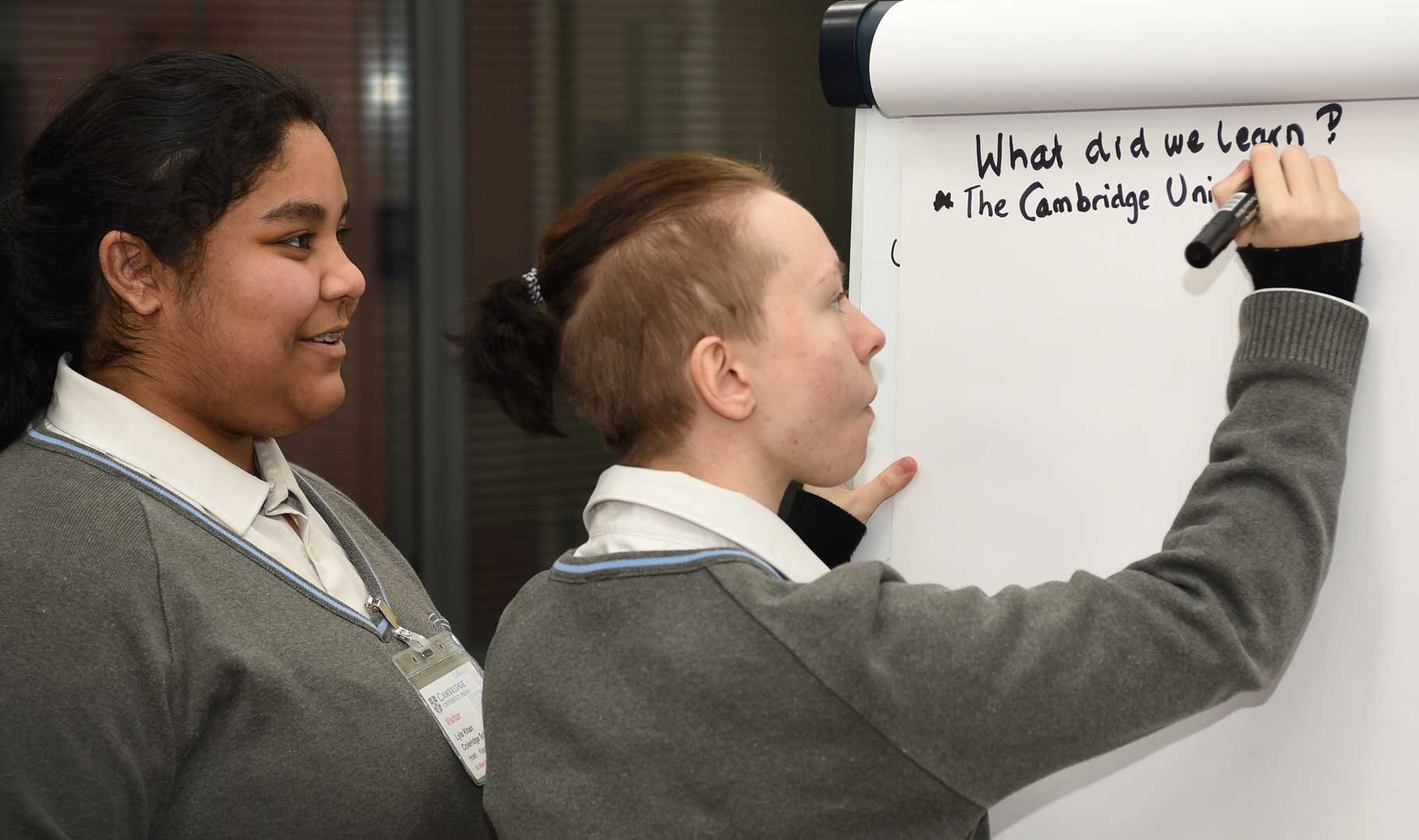 World Book Day attendees from local schools in Cambridge
For the last two years we have worked with Creative Access, a not-for-profit social enterprise that helps people from under-represented communities get into the UK's creative industries. So far we have provided eight, six-week paid internships with free accommodation, giving young people from Black, Asian and minority ethnic backgrounds experience and insight into publishing. This has been hugely positive and we very much want to work with Creative Access again in the future.
Of the 167 colleagues volunteering in the UK, almost 100 were involved in activities that opened up the Press and the publishing industry to people from all backgrounds. In February, as part of National Apprenticeship Week, we welcomed local students to find out how apprenticeships work; in July, 16 students attended two weeks of work experience; and in November, as part of Work in Publishing Week, 40 students came to workshops on ways to enter the industry.
Colleagues in New York once again took part in Operation Backpack, which provides school supplies to students living in homeless shelters. Unfortunately, COVID-19 forced the cancellation of an event in the New York office with its charitable partner, Pencil, to introduce high school students to publishing.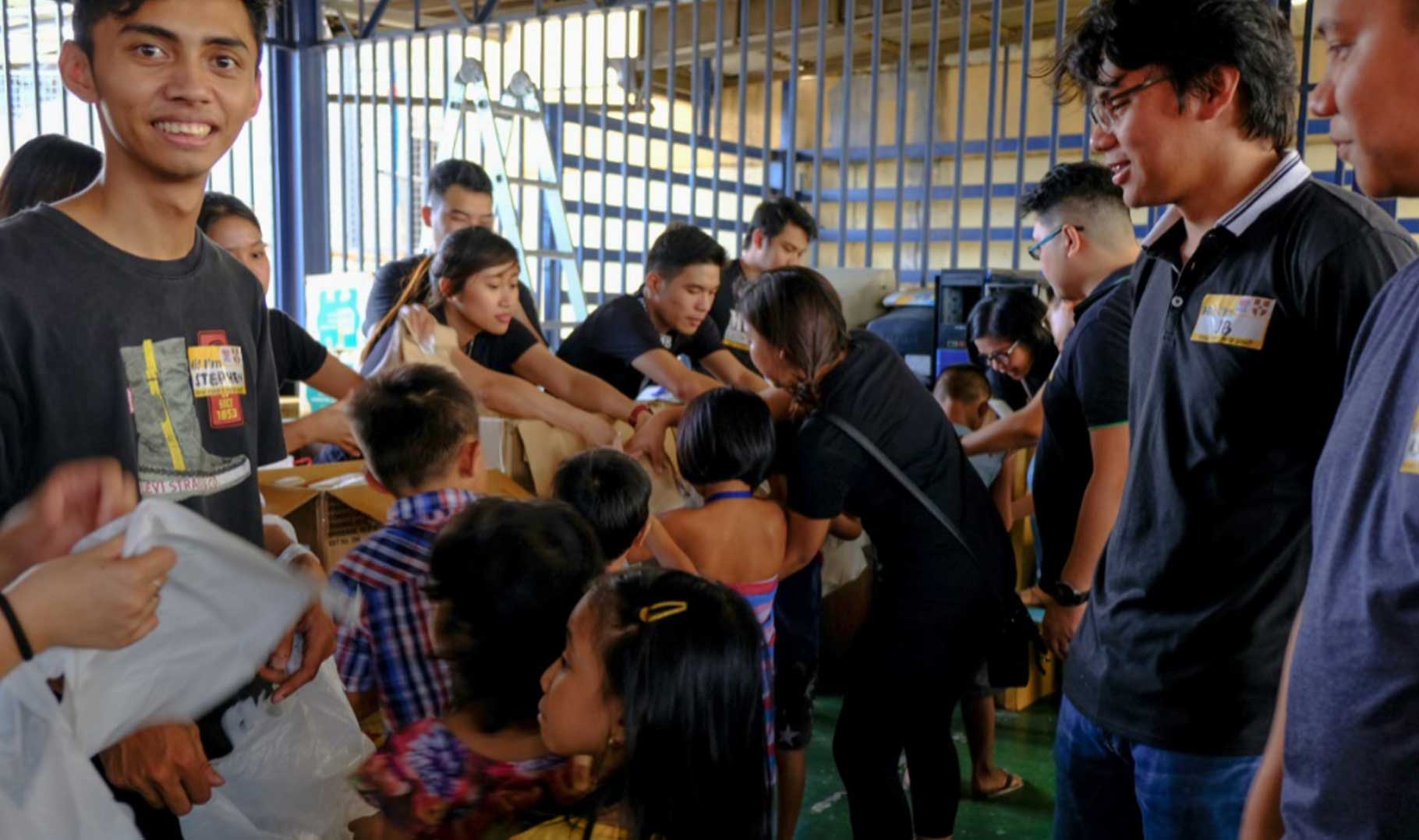 Colleagues in Manila supporting their local community
In the Philippines, colleagues raised funds to support a children's grief camp, housing improvements for the poor and support for street children. In Thailand, colleagues donated 20,000 THB (£5,000) to support people affected by flooding in the north-east of the country. This was doubled by a matching donation from the local Press office.
We donated nearly 2,200 Press books to an appeal by Book Aid International to rebuild the University of Mosul's Library. This was once one of the largest in the Middle East, but was destroyed in 2015. A further 26,673 books were donated to other schools and libraries supported by Book Aid, out of total book donations during the year of 42,848.