As the crisis unfolded we focused all our energies on helping students, parents and teachers navigate an unfamiliar world of shuttered schools, virtual classes and teaching from home. In common with other Press departments, we made much of our online material freely accessible, and we also offered continual support, guidance and advice to teachers around the globe (see separate panel).
The virus, and our response to it, underlined the value of two key features of English strategy: our placing of English language teachers and their needs at the very heart of all we do; and our emphasis on developing a strong digital presence, using technology to give students a more flexible interactive and intuitive learning environment.
Even with the impact of COVID-19, our full year results were strong – led by an outstanding performance in China. As in previous years we benefitted from a profound and long-term global trend: proficiency in the English language is increasingly seen as a key skill people require to prosper in an interconnected world.
That is prompting governments, schools and families to invest in English studies at earlier stages of a child's education, and in validated assessment to demonstrate competence. Growth in demand is particularly strong in southern hemisphere countries and in Asia, but slower in the more mature markets of the north.
There is also growing awareness that a holistic approach to learning, assessment and pedagogy is likely to deliver superior results. This is why we have been developing a close relationship with our colleagues at Cambridge Assessment English, which provides exams and qualifications for learners and teachers of English. We are jointly developing a suite of integrated learning and assessment tools underpinned by the Cambridge Curriculum, our single, systematic approach to learning and evaluating proficiency in English.
During 2019–20 we jointly launched an online learning, practice and support environment for the community of International English Language Teaching Testing System (IELTS) learners to help them prepare for their IELTS exam.
Our holistic approach is underpinned by our Better Learning framework. This creates a virtuous circle of English knowledge: our researchers' insights lead to relevant, vibrant teaching materials; these lead to better mastery of English; and classroom results feed back into additional research insights.
Our annual Better Learning conferences have become an important focus for thinking about English language learning and our fourth gathering attracted over 150 delegates from 30 countries to Robinson College in July 2019. The key themes were strengthening teacher teams, a curriculum for the 21st century and managing technological change.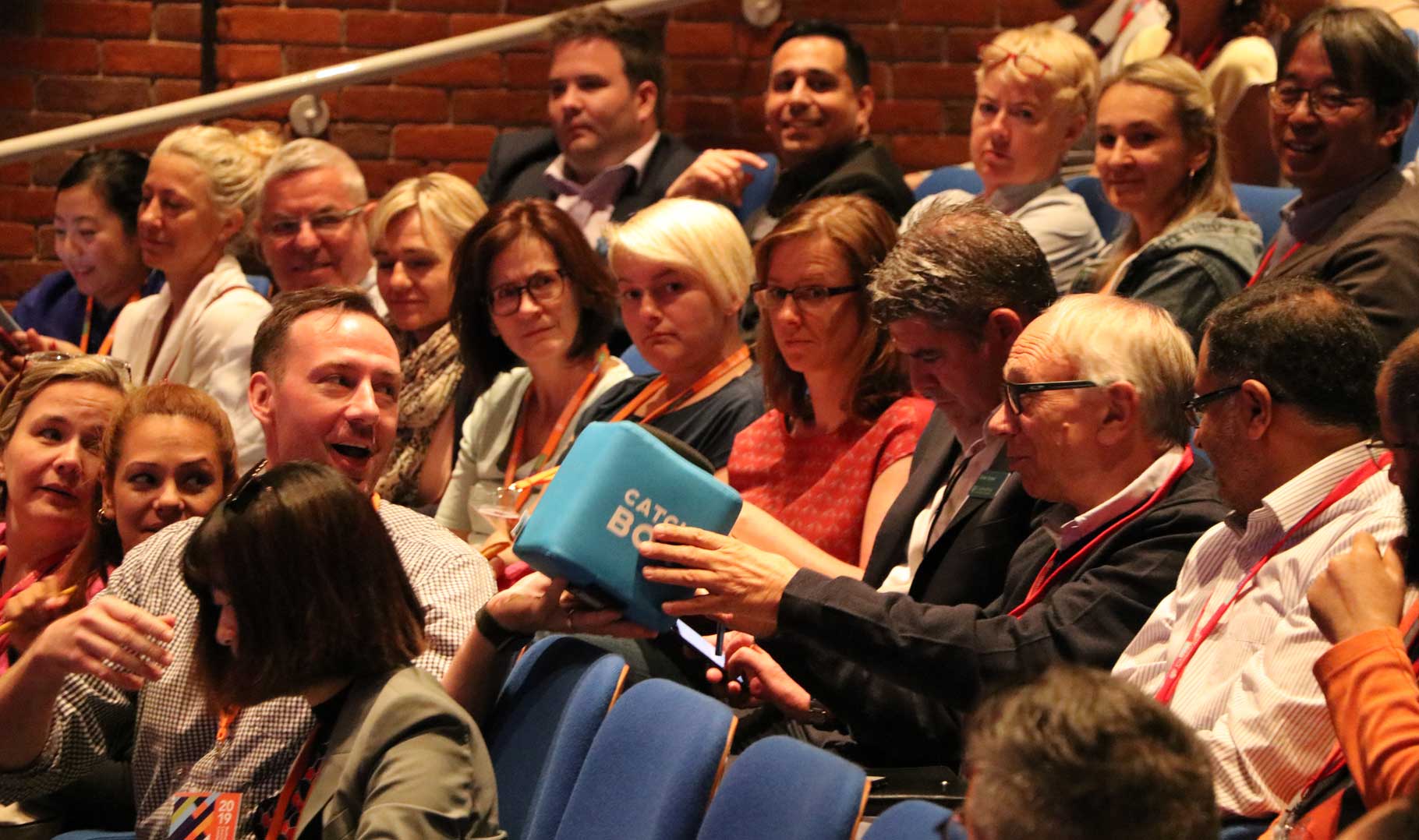 Attendees of the Better Learning conference
During the year we continued our major investment in learning materials that are delivered digitally, as well as strong platforms on which to deliver them. By the year-end, digital materials, and print materials blended with digital, made up 48 per cent of ELT publishing group's revenues, up from 45 per cent at the end of 2018–19.
We made important progress with the development of Cambridge One, our new learning management and delivery platform, which will gradually succeed the Cambridge Learning Management System (CLMS), on which we currently deliver most of our digital and blended products. Cambridge One, which will provide a richer, personalised learning environment, already hosts a course for young adults, called Evolve, which has achieved very positive feedback from teachers and learners.
Meanwhile, the CLMS underlined its position as the most widely used learning management platform for English language teaching institutions. At year-end it had a record 2.1 million active users, hosted 596 courses, and was used across 96 countries. Before COVID-19 struck, our primary, secondary and exam products were all recording double-digit year-on-year sales growth. We enjoyed particularly good sales in primary and secondary markets in Latin America, Iberia and in Asia. Our strong revenues in China were driven by sales of exams preparation materials and by Learning Solutions, the team that provides our largest customers with tailor-made products and support services.
The Cambridge Learning Management System underlined its position as the most widely used learning management platform for English Language Teaching institutions, with a record 2.1 million active users across 96 countries.
A good year in Mexico was led by the young adult sector, local publishing and another excellent performance by Learning Solutions. There was a significant return to growth in Brazil, thanks to the schools market. We also saw good growth in the Gulf, helped by Unlock, an academic skills course which launched its second edition during the year.
In the less buoyant European market, we achieved very good growth in Spain and Italy, helped by our focus on publishing specifically for these local markets. In Spain, we had particular success with our new primary exams course, Life Adventures, developed with Cambridge Exams Publishing, our joint unit with Cambridge Assessment.
We had a more difficult year in North America and the UK, where the inward flow of students - a significant market in past years - was substantially reduced. These markets also saw more competition from low or no-cost online resources of varying quality.
The increase in English language studies in schools continues to have an effect on the adult learner market. Demand for supplementary adult materials – books for grammar, vocabulary and the like – has been falling. However, demand for our core adult courses has remained strong. Evolve, our new blended course, performed well in 2019–20 while the second edition of Unlock saw excellent sales.
The strong growth in exam materials sales stemmed from increasing demand for Cambridge exams coupled with new publishing, particularly versions of our practice tests, a second edition of Prepare, a secondary course, and a new title, Open World, which focuses on the skills needed for everyday English situations as well as exams.
COVID-19
Colleagues across our English Language Teaching group made an enormous effort when COVID-19 struck to ensure we could provide teachers and learners with the support they need in unprecedented and constantly shifting circumstances. As well as making online content freely available, the Press and Cambridge Assessment English launched a 'Supporting Every Teacher' campaign. This used our World of Better Learning blogsite – part of our Better Learning initiative, which connects teachers and learners around the world with the latest research and materials. We focused on four main areas of support, with different elements deployed at the time we thought they would be most useful. The first phase was guidance on teaching online. Phase two involved supporting teachers in using their specific course book series from Cambridge, including access to classroom presentation software to use through online teaching platforms. In phase three we began to release additional material so that teachers had extra activities and help for their learners. This included releasing our Cambridge Exam Booster series as a download; art and craft activities for use during the holidays; and a story competition. Phase four focused on maintaining health and wellbeing whilst in lockdown. We had a fantastic response from our customers, with high attendance at our local and global online events and significantly higher views of our blogposts. These saw over 1.1 million page views between 13 March and the end of April, and a new record for daily visits the blogsite (22,000) set as our Fun Skills home booklets were released.
It is hard to predict just how the pandemic might change the world of ELT publishing and learning. It appears likely to encourage a faster and greater shift to digital products that can be studied at home or on the move.
Meanwhile, our online Cambridge Dictionary cemented its position as the world's leading dictionary for learners of English, with just under 50 million unique visitors in April 2020 up from 37 million in April 2019. Its popularity was helped by site improvements, allowing users to personalise their experience, and the introduction of Cambridge Dictionary Plus, offering free word lists and quizzes. Coronavirus lockdowns may also have played a role in encouraging usage.
At year-end it was hard to predict just how the COVID-19 pandemic might change the world of English language learning. It appeared likely to encourage a faster and greater shift to digital products that can be studied at home or on the move. That would play to our strengths. But whatever the mix of class and remote learning that emerges, our focus will be on providing the most effective resources, supported by the best technology, for the benefit of English language students everywhere.
CAMBRIDGE ONE
Cambridge One is our new, flexible digital learning platform where teachers and learners will be able to access all of our English digital products in an environment that is mobile-first, easy to use and personalised for them. It allows teachers and students to get in-depth feedback on individual performance and recommendations for study. Cambridge One went live in December 2018 and we are migrating content there from its predecessor, the Cambridge Learning Management System (CLMS). The first product it hosted was Evolve, an innovative course for adults. Primary and Secondary courses are to be added in 2020. These include game-like activities to engage younger learners and collaboration tools to support project and peer-to-peer work among teenagers. Customers have responded positively to the new platform, praising its user-friendliness, data and reporting functionality, productive skills, mobile-optimisation and platform speed. Some 60 per cent of Cambridge One usage so far has been on smartphones.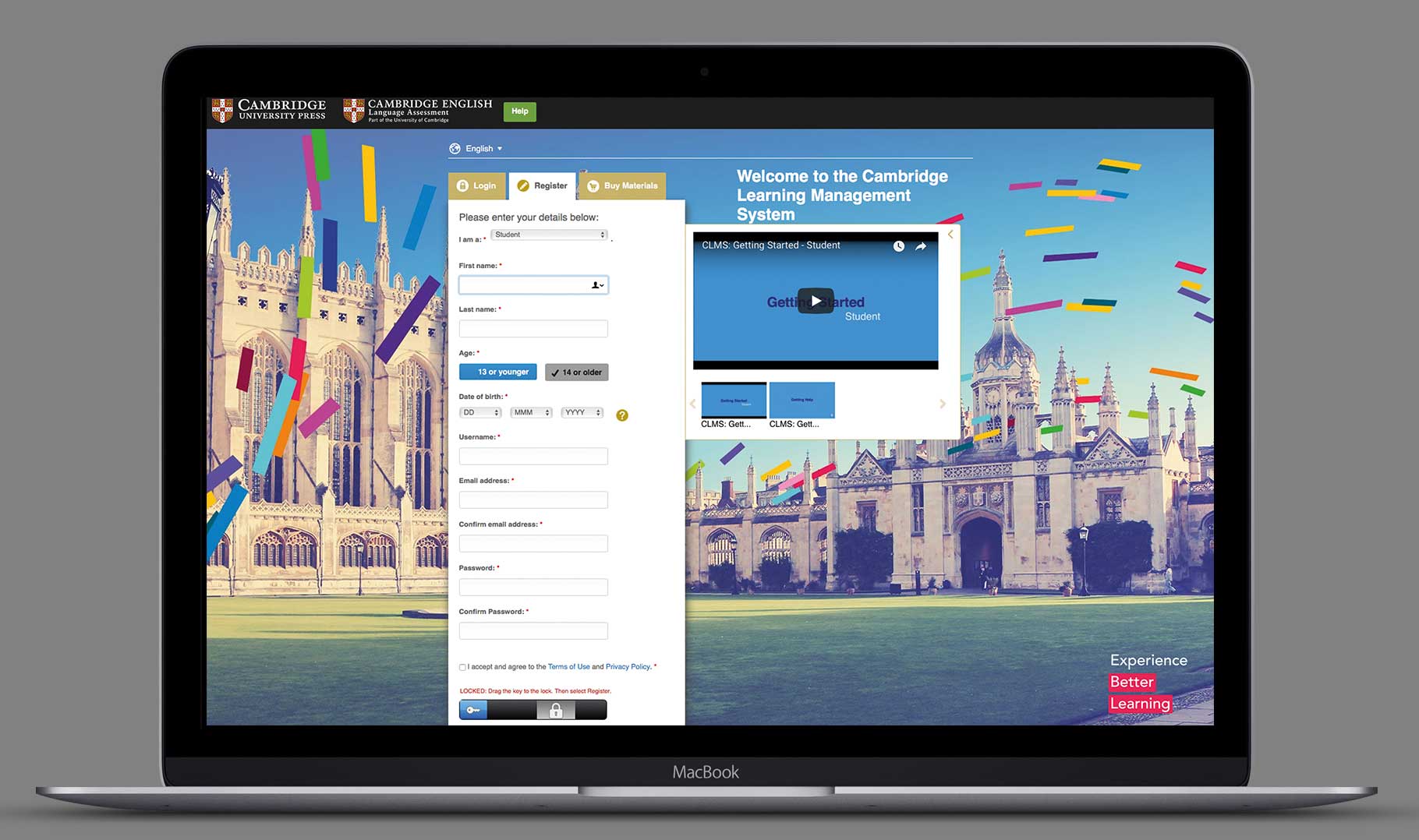 The Cambridge Learning Management System