We also saw good progress on some of the strategic developments for our business: the deepening of our ties with Cambridge Assessment; the creation of a new education reform business with Cambridge Assessment; the integration of the Centre for Evaluation and Monitoring (CEM), a leading provider of formative assessment for children aged from four to 19, into our family and product offering; and our successful initial publishing for English as a Medium of Learning (EML) markets.
When the pandemic hit we were proud of the way our teams responded to the crisis, working quickly and closely with our customers to launch a raft of further initiatives to support students, teachers and schools in delivering quality learning through an 'interrupted curriculum'. The fundamentals of our business remain strong and we are confident the medium-term prospects for the full Cambridge offer are robust and exciting.
The year saw the continuing development of a deeper relationship with Cambridge Assessment, recognising that by working together we can reach more schools and develop new products and services that improve teaching and learning in one of the world's most extensive and strong educational communities. We continue to put the teacher at the heart of what we do and see a unique opportunity in bringing together content, assessment and data to magnify their role in supporting all learners in their personalised learning journey.
We can assist students to learn more efficiently and help teachers evaluate work more effectively, through the development of sophisticated and integrated new products, many of them digital.
At the start of the year the Press and Cambridge Assessment jointly acquired CEM. CEM brings some of the most reliable and rich data to Cambridge through its long-established and rich predictive and diagnostic assessments. Data-rich assessment is increasingly valued by schools, and post-COVID is likely to be an even more important part of a teacher's toolkit for evaluating progress. During CEM's first year with us, we focused on investing in its digital platform, aligning its aptitude tests with the Cambridge Curriculum, and preparing to roll out its products and services across our global network. We are very excited by the potential for this acquisition in our Cambridge community of schools.
Another important development was the decision to combine our successful Education Reform business with Cambridge Assessment's complementary operation. This single Cambridge consultancy and execution business positions us brilliantly with governments and other major funding bodies, who will be focusing on the rebuilding of systems that have been negatively impacted by the current crisis. It will also enable us to have impact at scale and address the huge challenges around equity and access that have been exposed and made worse by the pandemic.
The year also saw the formal launch of an educational aid project which brings together the Press, Cambridge Assessment and colleagues from the academic University with Unicef, the international children's charity, and Microsoft. The project uses Cambridge's educational expertise to close the 'learning poverty gap' that sees millions of primary-level children failing to achieve minimum proficiency levels because of poverty, discrimination, conflict and disaster. The initiative was launched at The Education World Forum, an annual gathering of global education ministers and experts in London.
Teachers – the key link in the education chain – are at the heart of our approach to education, and this was underscored in our response to COVID-19. We made our digital products freely accessible worldwide for a period, including Cambridge HOTmaths, our best-selling secondary interactive maths learning system, as well as digital versions of products previously only available in print. We created free packs of worksheets for children aged 5–11 to complete at home with help from an adult. We created blogposts for teachers on working during school closures, and incorporated tips from fellow teachers around the world. We launched a campaign for people to show their appreciation for the work of teachers during the crisis in a campaign using the hashtag #LetATeacherKnow.
This drew on our experience with our 'Dedicated Teacher Award', now in its second year, which lets students nominate a teacher who has made a remarkable contribution to their life. In 2019–20 this attracted more than 6,000 entries from 97 countries. The winner was Patricia Abril from the New Cambridge School in Colombia.
WE LOVE ENGLISH
The We Love series for Indonesia is a good example of a collaborative approach to publishing across the ELT and Education publishing groups, focusing on schools delivering local curricula subjects in English. We worked with our Learning Solutions team in Cambridge, which creates tailored products for our largest customers, and our publishing team in Delhi to develop We Love English and We Love Science. These are primary school courses designed specifically for the Indonesian national curriculum, and include glossary support and information for parents in Bahasa Indonesia. The series launched in November 2019 to very positive feedback from teachers, who appreciated the Asian-centric approach and inclusive message to schools and parents. We are now developing We Love Maths, similarly tailored to the Indonesian curriculum, for launch at the end of this year. The project is an example of thinking about local needs, but pooling our international assets to meet them, and is likely to be a model for projects in other countries.
In the year pre-COVID-19, we gained market share in the international schools sector and made strong progress in local schools using English. Sales growth was particularly strong in China, South East Asia and the Middle East.
In Australia, we enjoyed the successful launch of a years 7–10 science course for Victoria, while in Queensland we consolidated the gains we made last year when we entered the state with a new mathematics curriculum.
COVID-19 caused particular problems in India, since sales there are concentrated in the final four months of the year. Before the pandemic struck, we had been enjoying another year of good growth and very positive conversations with government about engagement with the national education strategy review. In Pakistan we continued our work with major school groups developing customised solutions for use across their network of campuses. In the Maldives, we renewed our five-year contract with the government for a further five years.
In Africa, we continued to meet the needs of a young, fast-growing population and to make us less reliant on the flat South African market. Our Nigerian business hit its high sales growth targets in its third year of operations and we were very successful in getting books approved for new curriculum submissions in Ghana, Lesotho and Zimbabwe. In South Africa our focus on mother tongue language publishing ensured we maintained our good position ahead of future opportunities.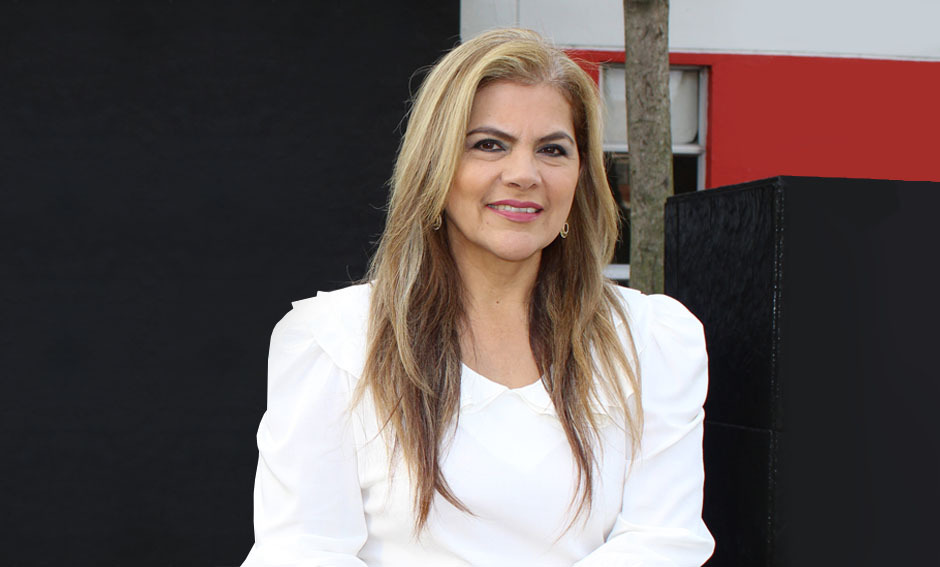 Dedicated Teacher Award winner, Patricia Abril
Our Learning Solutions unit, which produces customised products for large customers, worked with colleagues in the English Language Teaching group on some very successful projects. These included the creation of a set of primary school courses for Indonesia (see separate panel) and the deepening of our relationship with a market-leading chain of schools in Turkey.
Here we provided learning materials for their primary extension programme, in both English language and other areas of the curriculum, along with tailored professional development, both face-to-face and online. The chain's trust in Cambridge was demonstrated when we were asked to provide support when COVID-19 presented the challenge of moving to distance learning.
Over the last year, we have continued to see increased usage on our key online platforms. The number of HOTmaths users grew by over 30 per cent, while the number of students and teachers using our Elevate e-book platform grew by 40 per cent.
We further consolidated our platforms to deliver a consistent user experience, making all our platforms available to users with a single account and through a single gateway. Key new products include the launch of our new digital platform in India, Cambridge Learn, available to around 20,000 teachers by year-end. We also launched a digital revision service, Checkpoints, in Australia and made a full suite of digital resources available to all schools in the Maldives.
COVID-19 is bound to have long-term repercussions on schools and how they teach. Books and blended solutions remain a critical tool in helping a school's resilience during an interrupted curriculum. This, coupled with the exceptional customer relationships we have built in recent years, will set us up for future success as some kind of new normal re-establishes itself in our markets.
EDUCATION REFORM
Our Education Reform operation has built up a strong track record working with governments on their strategy in the three years since it was established. The success of the unit, with its strong customer pipeline and good relations with ministries, has now encouraged the University to bring it together in a single operation with Cambridge Assessment's complementary business. This will have a substantially bigger market presence and offer clients more holistic advice and support. In the run-up to the merger, the Press's unit enjoyed a year of good growth, including winning a tender in India and a follow-on deal in Oman at the end of a three-year programme working with the Ministry of Education to reform the curriculum for grades 1–8 in maths and science. The Ministry's goal was to ensure that teaching and learning was of the highest international standard, placing education at the centre of the country's 2040 vision. Execution of the contract was a cross-Cambridge collaboration: the Press contextualised resources, translated them into Arabic and provided teachers to ensure effective classroom use; Cam-bridge Assessment International Education provided test specifications and training of Ministry teams; and the Faculty of Education conducted a baseline study to understand current practice and the use of textbooks in classrooms. The resources are being used by over 56,000 teachers and 600,000 students in state schools across the country.