The year 2019–20 was one of extraordinary contrasts for the Press. We enjoyed 46 weeks of strong revenue growth and excellent progress with our long-term strategy, only to face a very different final six weeks as we helped customers and colleagues cope with the global effects of the COVID-19 pandemic.
The needs of students, teachers and researchers are always central to our thinking, something we demonstrated in our response to the pandemic. We moved fast to provide free access to a wide range of research and learning materials for those in schools and universities whose lives were disrupted by the disease.
To support greater understanding of the virus, we gave free access to all the research we publish on COVID-19 and issues related to it on Cambridge Core, our academic research platform, and adapted our editorial processes to be able to publish new coronavirus research within 24 hours of receipt of a manuscript. You can find details of our many coronavirus initiatives in later sections of this Annual Report.
I want to pay particular tribute to my Press colleagues. In just two days they transformed the organisation from one operating out of 50 offices around the globe to one where everyone worked from home – all the while looking for solutions to our customers' problems. The Press did as much as possible to help all our people cope with lockdown, and I am pleased that a survey into our handling of the crisis showed that 91 per cent of colleagues thought we had done so well.
I am exceptionally proud of the way the Press rose to the challenge of COVID-19. You can tell much about an organisation by the way it responds to an unexpected crisis. The teamwork, creativity, hard work and generosity of spirit shown by colleagues across the world underlines the strength of our culture and the remarkable qualities of Press people. I am extremely grateful to them all for their handling of the pandemic and for their passion and commitment to Cambridge throughout the year.
The Press enjoyed strong revenue growth until COVID-19 hit financial performance in the final six weeks of the year, but still succeeded in growing sales by two per cent in constant currency terms.
In particular, we passed an important milestone in our digital publishing drive, with more than 50 per cent of sales coming from digital and blended products. We made excellent progress in working ever more closely with our colleagues at Cambridge Assessment, the University's examinations group, and with Cambridge's teaching and research departments. Our Academic publishing group made big moves in its pivot to Open Access publishing, and our English Language Teaching group had an outstanding year – COVID-19 notwithstanding.
Collaboration with colleagues in the wider University reflects our belief in the 'Cambridge Advantage' – that by pooling our skills and experience we can produce more creative solutions to problems and help achieve our shared core purpose of advancing learning, knowledge and research worldwide.
Coronavirus will weigh on the coming year as well, but we can take considerable comfort from our achievements in 2019–20 prior to its arrival. These will stand us in good stead when the threat from the pandemic diminishes.
I was delighted to accompany Professor Stephen Toope, the Vice-Chancellor, on visits to India and China during the year which emphasised Cambridge's role as a global leader in education for all ages, from a child starting at primary school to a student submitting a doctoral thesis.
Our partnership with Cambridge Assessment deepened in many ways, with both our English Language Teaching and Education publishing groups working closely with their counterparts at Cambridge Assessment on providing better solutions for learners and teachers, with our aim a single strategy across both organisations.
Of particular importance was the decision to bring together under one management the Press's Education Reform team, which advises governments on improving their education frameworks, and Cambridge Assessment's equivalent groups. The move attests to our success in establishing the Press as a significant partner in education reform only a few years after forming it as a separate team.
Meanwhile, the Centre for Evaluation and Monitoring (CEM), jointly acquired by the Press and Cambridge Assessment from Durham University in May 2019, had a good first year bedding down in its new home. CEM is one of the most respected organisations providing formative assessments for children and fits extremely well as a member of the Cambridge family, broadening the integrated services we can offer schools in the UK and around the world.
Our work with Cambridge teaching and research departments included the launch of the Technology Enabled Learning Programme, where we have been using the Press's knowledge of instructional design and digital products to help faculties create good online learning environments for undergraduates. Two courses had been launched by year-end with several more to launch soon.
We worked in tandem with the University to articulate a common Cambridge position on Open Access to research papers in response to consultations initiated by a coalition of European funders and by UK Research and Innovation. As part of a great research university, we are a strong advocate of the widest possible access to scholarly works, consistent with an orderly transition and the maintenance of a sustainable publishing environment.
Peter Phillips, along with Cambridge Assessment Chief Executive Saul Nassé, and the Vice-Chancellor of the University of Cambridge, Professor Stephen Toope, visited India this year
The most significant of our Open Access achievements during the year was the rapid growth of Read and Publish deals with academic institutions. These are licences which bundle together access to a publisher's subscription journal content with freedom to publish through those journals without paying extra publishing charges. It is a particularly good route to Open Access for areas with less grant funding like humanities and social sciences. By year-end we had signed deals with 23 institutions around the world, including our own, up from six at the end of 2018–19.
During the year we also launched Cambridge Open Engage, our online open platform for academic research, before it had been peer-reviewed – pre-prints. Our launch partner was the American Political Science Association, which by the year-end had had 207 pre-prints submitted and 170 published, with an average turnaround time of 30 hours. The full site launched to other communities and subject areas on schedule near the end of 2019–20.
This is just one example of the way digital technology allows us to create new products to better serve the needs of customers, be they a researcher working on a computer or an English language student studying on a smartphone.
Strong, resilient and flexible platforms are the foundation that underlie the best digital products, and in 2019–20 we made good progress across all our three business areas to provide richer, more seamless and personalised studying environments.
COVID-19 underscored the importance of our digital drive, producing a sharp jump in online demand for our products. For example, the online Cambridge Dictionary, the world's leading dictionary for learners of English, saw just under 50 million unique visitors to the site in the final month of the year. Our strength lies above all in publishing works of the very highest quality. In 
2019–20 the calibre of our list was once more recognised in a raft of industry awards, including six category winners in the prestigious Professional and Scholarly Excellence Awards, presented by the Association of American Publishers.
Important publishing events during the year included the launch of the online Cambridge Shakespeare, which brought the complete works of Shakespeare and prize-winning reference material together on a new, fully integrated digital platform. Shakespeare is at the very heart of our humanities publishing, and this project drew on more than 150 years of dedicated, expert engagement with these texts.
Other publishing highlights included a strong performance by English Language Teaching's new Evolve blended course for adults, and the Education publishing group's We Love series for Indonesian schools delivering local curricula subjects in English.
While COVID-19 dominated the headlines at year-end, we remain alert to the longer term threat from climate change. Our concern for the environment was highlighted during the year in our publishing and in our efforts to reduce our own carbon footprint. We became a signatory of the UN Global Compact, the world's largest corporate sustainability initiative.
We collaborated on the creation of a global hub for Cambridge Zero, the university's ambitious new climate initiative, which will develop sustainability ideas and innovations. Mike Berners-Lee's There Is No Planet B, published as part of our expanding list of trade and audio books, was a bestseller and a hugely influential point of reference in debates about climate change.
At the start of this review, I highlighted the work of colleagues in our response to COVID-19. To continue to attract the most talented people, it is important that we provide a working environment that treats everyone fairly, encourages collegiate and creative thinking, and helps career development through the acquisition of new skills.
Our partnership with Cambridge Assessment deepened in many ways, with both our English Language Teaching and Education publishing groups working closely with Cambridge Assessment on the alignment of course and exam materials.
I am pleased that in 2019–20, having successfully completed several levels of our management training programmes, we launched a scheme for colleagues new to line management. We also placed more emphasis on the needs of our younger colleagues, a third of whom globally are under the age of 35. I am delighted by the continued success of our apprenticeship programme, which is bringing valuable new perspectives to teams across the organisation and attracting talented people who would not previously have joined the Press.
Social responsibility is an important part of our culture. The year saw the formal launch of an educational aid project in which the Press, Cambridge Assessment and colleagues from the academic University are working with Unicef, the UN's international children's agency, and Microsoft to help millions of primary-level children affected by poverty, discrimination, conflict and disaster – particularly those who are refugees. The initiative was launched at The Education World Forum, an annual gathering of education ministers and experts in London.
Colleagues around the world gave generously of time and money to local charities during the year. Their efforts, together with matching donations from the Press, raised £56,375 for good causes.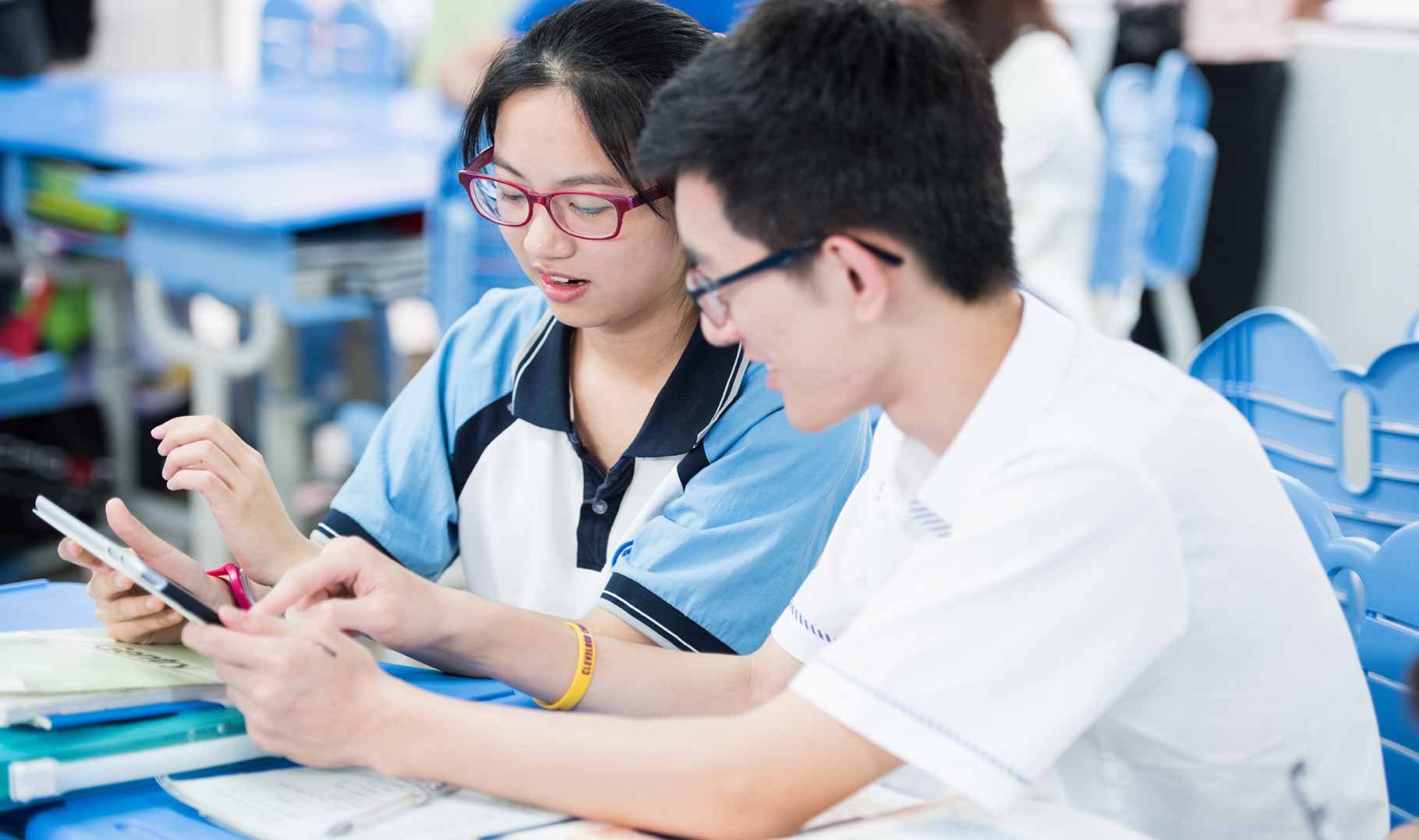 English saw an outstanding performance in China
COVID-19 hit us hard with just six weeks of the financial year remaining. Disruption in supply linked to lockdown in most schools and universities triggered a sharp fall in sales that interrupted the strong growth the Press had been experiencing to that point. The biggest driver of that growth was our English Language Teaching group, which delivered an outstanding performance, despite the impact of the pandemic, and meant that the Press was still able to grow revenues and report an operating profit of £23.6 million (2019: £24.4 million) close to last year – a strong result in the circumstances.
Sales of £336 million (2019: £327 million) were two per cent up on the previous year at constant currency. The strength of our performance in English within that came particularly from its performances in China, Turkey, Mexico and many European markets. Our Education publishing group grew its market share in the international schools sector and held underlying sales in line with last year, despite the pandemic taking hold at the worst possible time in some of its key markets. The Academic publishing group saw revenues decline in the face of the impact of the virus and a tough US print books market.
At a time of crisis it is important also not to lose our focus on the long term. While it is too early to assess fully the implications of COVID-19, it seems inevitable that there will be even more demand for the kind of online, interactive products that we have been developing on our resilient and flexible digital platforms.
From this strong base, and working closely with colleagues across Cambridge, we continue to invest in outstanding materials that push the boundaries of understanding and support the advancement of learning, knowledge and research worldwide.

Peter Phillips Chief Executive